Train & Educate My Staff​
Reduce the time it takes for your employees to get the PCI DSS training and education they need, when they need it.
Are you struggling with an inexperienced staff running your PCI DSS Compliance program?
Do your system administrators know what they need to do to make sure your PCI DSS in-scope systems have the right security controls in place?
Did your PCI ISA just quit? 
Does your CIO or CISO really know what needs to be done to maintain Continuous PCI Compliance?
,If you're nodding your head in agreement to one or all of the above questions, have no fear.
At Payment Card Assessments we provide PCI DSS Training and education that no one else provides.
We've got a combined 20+ years of in the trenches experience running a Continuous PCI Compliance program at a level 1 merchant.
Our CEO, Peggy Nolan, is a frequent guest speaker at PCI SSC Community Meetings, ISACA chapter events, and she's presented twice at the WPM (now Flywire) Payment Security Conference in the UK.
Whether you want to book a 2 day in-house PCI DSS training experience, join us for our live training sessions via Zoom or join our PCI Resource Center, we've got the training you need to implement a kickass Continuous PCI Compliance program
PCI DSS Training & Education
PCI Compliance Essentials for Everyone in Your Organization - October 2023
Imagine everyone in your organization speaking the same PCI Compliance language…
How awesome would that be?
What would that look like for your organization?
PCI Compliance Essentials is the course every organization needs if they're serious about creating a world class PCI Compliance program.
10 hours of live training over 5 evenings in October, 2023

Live via Zoom 
Space is limited to 15
Taught by Peggy Nolan, PCIP, CISA, 10 year PCI ISA at a Level 1 Merchant, and international speaker 
Click –> For details and registration.
Become a Member of the Nolan & Cressey PCI Resource Center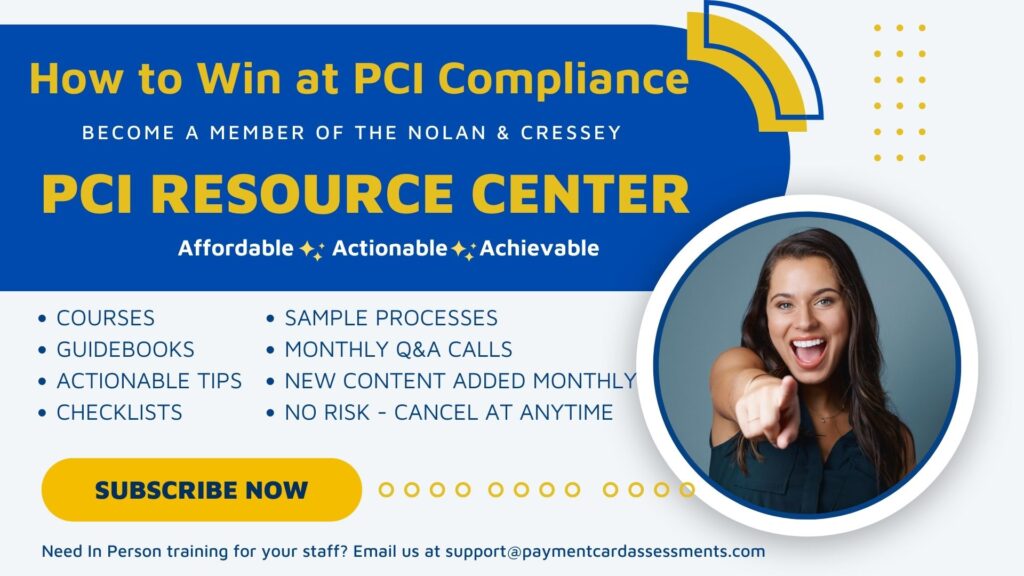 Monthly Q&A Calls
Unlimited access
The ability to download our sample process flows and checklists
New courses added monthly
CPE's for each course you complete
Peace of mind knowing you can cancel at any time 
Watch Peggy Nolan's Presentation at the 2022 PCI NACM
PCI DSS Training